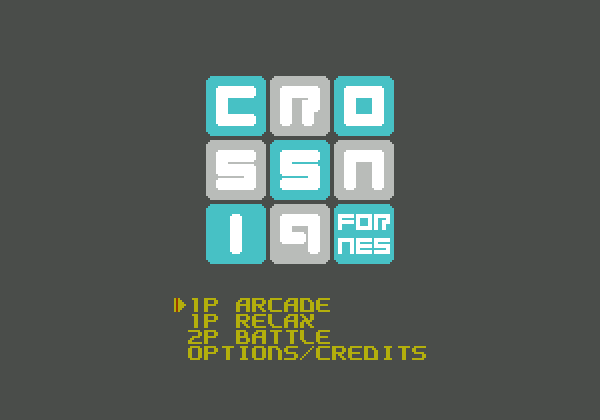 CROSSNIQ (NES-style demake)
If the Switch remake is CROSSNIQ+, would this be CROSSNIQ−?
Y2K goes 8-bit. Slide tiles into crosses as fast as you can.
CROSSNIQ (pronounced "CROSS-nique", like the end of "unique") is a tile-based puzzle game where you make crosses of the same colored tile to clear them.
Move the cursor with the D-pad or arrow keys. While holding A, press a direction in the D-pad to cycle the tiles in a row or column.
Alternatively, use the mouse or touchscreen to intuitively control the game.
Lock tiles can't wrap around the field, restricting your movement options. Placing them in or next to a cross will turn them into normal tiles.
X tiles can't move at all. They can likewise be turned into normal tiles.
Star tiles give you a point bonus when included in a cross. Watch out: they also disappear next to a cross.
This version supports local 2P battles!
"Fixed" cursor behaves like Yoshi's Cookie, where the cursor doesn't move along with the rotated tiles. "Moving" cursor behaves like CROSSNIQ+, where the cursor moves along with the rotated tiles.
This is a remake of CROSSNIQ by Max Krieger. Please support the original, or even buy CROSSNIQ+, the Nintendo Switch port with many more extra features!
Game jam entry for Retro Jam 2021: Side Effects. Ranked 33/141.
---
Control schemes: keyboard, gamepad, mouse, touch