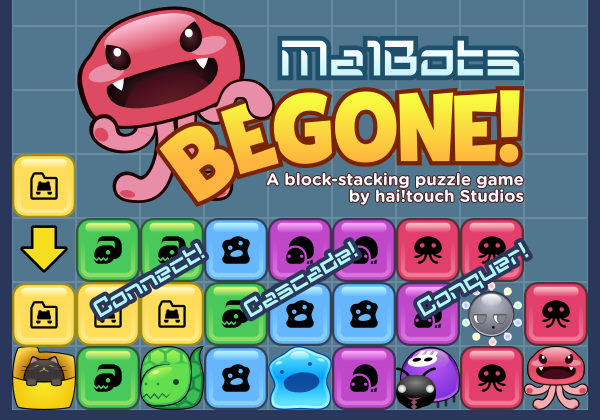 MalBots Begone!
A love letter to retro puzzle games
Connect 4 blocks of the same color to defeat those pesky MalBots before they wreak havoc!
MalBots Begone! is a color-matching puzzle game where you connect 4 adjacent blocks of the same color, in order to defeat the creatures called MalBots.
The gameplay is based mainly on Puyo Puyo; the idea of color-specific obstacles was taken from a no-longer-available game app called Ghost Puzzle by what is now Lucky Kat Studios, likely in turn from Dr. Mario.
If you like this game, please support Puyo Puyo by buying first-hand official entries, such as Puyo Puyo Tetris, and SEGA AGES Puyo Puyo 1 and Puyo Puyo 2.
---
Control schemes: keyboard, gamepad, mouse, touch